The cupcake craze has come and gone. But the three-figure cupcake craze may be just beginning.
A Toronto bakery recently whipped up a $900 cupcake for a customer who wanted to buy "something special" for his wife's 40th birthday. It's now offering the extravagant confection to the public.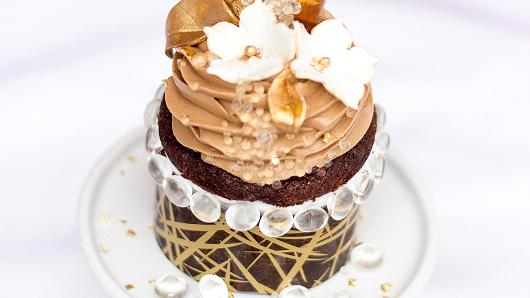 Created by Le Dolci bakery, the cupcake is made from an exotic list of curated ingredients—sea salt from Camargue, France, honey from Rosewood Estates Winery in Ontario, butter from Normandy, France—and is topped with 24-karat gold flakes, an edible gold-painted branch and confectionary bubbles made with a "molecular gastronomy" technique.
"He wanted something special and extreme," bakery owner Lisa Sanguedolce said.
Sanguedolce and her team of bakers worked with the customer for weeks to find ingredients from places the couple had visited, including Italy, Hawaii and France, as well as things they liked, such as Krug Champagne.
"When his wife saw it, she shrieked—the equivalent of someone unwrapping a pair of Louboutins," she said. "They ate it and said it was delicious."
Le Dolci received a flurry of inquiries and interest about the cupcake, which has helped sales of the bakery's everyday $2.75 cupcakes. But so far, there have been no other orders for the $900 version.
Although the cupcake costs more than a month's rent for many, Sanguedolce said people who make their money through hard work are free to spend as they please.
"This customer also gives millions to charity," she said, declining to disclose his identity. "There's [a] lot of money in this world and people who can afford luxury. There's nothing wrong with having a little bit of fun and theater in your life."
In that spirit, here's the full list of ingredients for Le Dolci's $900, bite-size masterpiece:
Kona Blue Mountain Coffee in the chocolate buttercream
Sea salt from Camargue, France
Valrhona cocoa powder
Tahitian vanilla beans
Pastry cream made with Krug Collection Brut Champagne
Rosewood Estate honey
Normandy butter made by a historic French butter cooperative
70 percent Amedei Italian-made chocolate, described as having undertones of honey, caramel, lavender, vanilla, banana and orange blossom
An edible chocolate cup garnished with crunchy pearls and dusted with 24-karat gold flakes.
An edible gold-painted branch with leaves, fondant flowers edged in gold, edible sugar diamonds and handmade champagne caviar bubbles.
A pipette filled with limited-edition Courvoisier that's drizzled on top
Original Source: CNBC