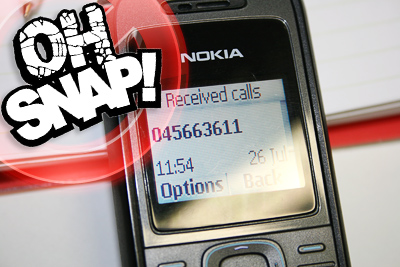 As mentioned a few times earlier on our blog, we frequently get calls from Pawn Shops and gold buyers pretending to be customers. Often the reason for these calls is because they are trying to find out our gold rates and other information about our company. We find it amusing and silly that they don't have enough work to keep themselves busy and find it necessary to call us, attempting to find out what makes us successful.
We had one such call from a lady at 11:54am today saying that she wanted to sell some gold and was asking about our rates. She said, "I've been to Cash Converters and their rates are really low, and they are not going to pay me anything. However I need to sell quickly so I wanted to check your rates." She was quite pushy for information and seemed to be in a hurry to sell her jewellery (never a good sign).
As we were outside the office, we offered to call back when I had current rates on hand, however she was then in a hurry to end the call (not a good sign either). When back in the office, we found the number and could see that she was calling from the Cash Converters, Lower Hutt outlet (no surprise there).
Not only was the dishonest caller pretending to be a genuine customer and wasting everyone's time, but her comment about their own rates was quite funny.
We'll let you be the judge – wouldn't you rather deal with a company that focuses more on their customers rather than their competitors?