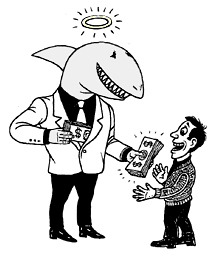 Evil. That's what we'd call anyone making loans on gold and silver jewellery – commonly referred to others as "loan sharks". These predatory companies have infiltrated New Zealand society and exploit struggling families.
With the current environment of rising prices (food, petrol, energy, etc) many are in desperate and vulnerable states that loan sharks will happily prey upon. Whilst these types of companies have to follow current NZ Law, many people taking out loans don't understand the terms and conditions, and in many cases English is a second language – making comprehension of binding legal contracts even harder to understand.
One loan shark posing as a gold buyer states on their website that they charge over 400% per annum! Who in their right mind would think that's a fair deal?
This has become such an issue that there's now a "Community Alliance Against Loan Sharks" campaign that's just been launched by the Labour Party with the aim of being an advocate for consumers.
Launching a community alliance against loan shark exploitation today Carol Beaumont said: "Kiwi families all around the country are having to make terrible choices between putting food on the table, or putting gas in the car, or taking the children to the doctor."

"In an environment where rising costs are putting families on the brink of despair loan sharks are at the ready and open for business," Carol Beaumont said.

"Today community groups including the Salvation Army, the NZ Federation of Family Budgeting Services, FINSEC, The Child poverty Action group, The New Zealand Association of Credit Unions and budgeting expert Darryl Evans gathered to re-launch the anti-loan shark campaign with a community focus.
It will be interesting to see what effect this has on changing the practice of cash loans, "pay-day advances", cash for gold, loan your gold, etc in New Zealand. Hopefully this action will result in greater government regulation, especially for those targeting lower socio-economic areas.
If you are thinking of selling gold then choose NOT to support these types of predatory companies – only sell gold to dedicated  and professional gold buying companies like GOLD SMART. With pride, we DON'T make loans.