Gold is great for jewellery, on your watch, or even possibly as a case for your iPhone. But there has to be a limit somewhere what should be made out of gold. It can be fun to see what type of everyday items one can find, except that they are made of gold.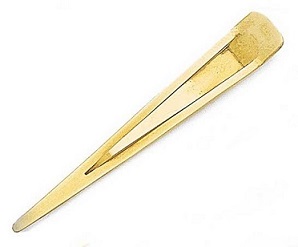 First up on this short list of interesting items is a 14k gold book mark. For about $300 you can buy a clip-in gold book mark to keep place in your favorite $8 paperback book. A precious metal book marker seems like a dangerous purchase. The paper ones are very adept at getting lost several times a week and you are always digging in the nightstand drawer for another to mark your place before turning in for the night. Maybe a 14k gold bookmark would stick in your mind and be harder to lose. The golden option might save all that time spent looking for something to mark your spot or even save some books from the torture of a turned-down corner.

The second gold item for those who like to show extravagant bad taste is a gold toothpick. For about $200 you can get one in 14k gold that matches the shape of the wooden ones that cost $1.00 to get 50. Add another $50 or $100 and your dental digging tool comes with your initial mounted on the thick end. So if you want to dig around for that stuck piece of chicken in style, consider a gold toothpick.
Do not think of these items as an inexpensive way to buy a useful implement and get a bit of gold investment too. With 14k gold and the size of a toothpick or book marker, the actual value of the gold will be about 20 percent of the retail price.