If you've ever heard your doctor recommend that you "get your vitamins and minerals" you can rest assured that they weren't talking about gold. Although gold is chemically inert and completely harmless to the human body, it is definitely not essential for humans in any way, shape or form.
One thing it is though is incredibly attractive and alluring and, because of those two facts, gold has been used for thousands of years in gourmet food and drinks as a way to make them more appealing not only in sight but in stature.
Because it is so incredibly soft and malleable, gold can be made into something called "gold leaf" which is similar to aluminum foil but much, much thinner. It can also be made into gold flakes and dust and, as long as it is 24 karat gold, it is completely harmless to humans. This gold leaf as well as gold flakes and dust have been used in all manner of food and drink concoctions all over the world, including liquors, sushi and even hamburgers.
The gold itself has absolutely no taste, no calories, practically no texture and, maybe most importantly, no expiration date. Because of these factors, and the fact that humans have an inordinate attraction to this shiny metal, it is perfect in food decoration (if a little bit on the expensive side).
If you've got a hankering for an excellent hamburger that will make you the envy of your friends, you could try the $666.00 "Douche Burger" that's sold from a New York City food truck. In it you'll find an all beef patty that's wrapped in six beautiful sheets of gold leaf as well as caviar, lobster chunks and truffles. (One can only guess why the food truck owner decided to give it the name Douche Burger.)
The Swiss, no strangers to gold themselves, have been making Goldschläger Cinnamon Schnapps for quite a few years. It's a very famous liquer that, as you might imagine, contains gold flakes inside the bottle. The actual value of the .1g of gold is under $5.00 but just the fact that there's gold in it has made it quite popular worldwide.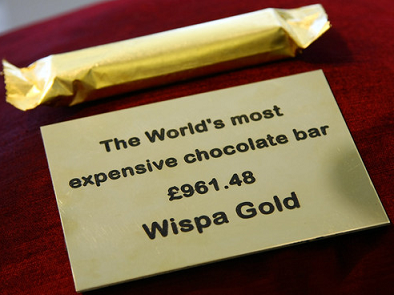 The popularity of gold covered chocolate is not lost on the British, who were so enamored of Cadbury's Wispa Gold chocolate bar that 22,000 fans of the gold covered chocolate delight mounted a social media campaign to convince the company to bring it back to the market. Of course at a retail price of just over $1600 it's not the kind of chocolate bar that you're going to be giving to your child if they get good grades in school (unless your last name happens to be Forbes, of course).
If you're keen on creating your own gold covered creations, German food cooperative The Daily Garage makes an edible gold food spray called Esslack. We're betting that if you spray-paint all of the food at your next dinner party gold your friends and neighbors will be talking about it for quite some time.
Then of course there are lollipops covered with gold from DeLafée International as well as their luxury Dominican cigars that are hand rolled in gold leaf and make quite the impression wherever you decide to light up.
Finally there's the most expensive sushi in the entire world made by Chef Angelito Araneta Jr of Manila. Not only does this creative young chef wrap his sushi in gold leaf but, just as a kicker, he sprinkles a smattering of small .20 carat African diamonds on top. If you're keen on golden sushi, you're in Manila and you have about $2700.00 to spare, mosey up to the sushi bar and order yourself this luxury 5 piece golden sushi plate.