If a company sells an iconic product and happens to produce the 4 billionth example of the product during the company's 40th anniversary year of that product, what should the company do? Well, toy maker Mattel decided to commission a gold and diamond crusted Hot Wheels toy car for the special event.
If you do not know Hot Wheels, the cars are 1/64th scale models of a wide range of sport and classic cars. The toys get the name from free spinning wheels that allow the cars to zoom around a plastic track shaped in a channel and powered by gravity. Many small boys from around the world have set up tracks and raced their Hot Wheels cars through turns and loops.
However, it is a good bet that no boy ever raced the $140,000 value Hot Wheels produced for the toy's 40th anniversary in 2009. Although no specific model is given, the diamond covered Hot Wheels closely resembles an early 1970's Dodge Challenger.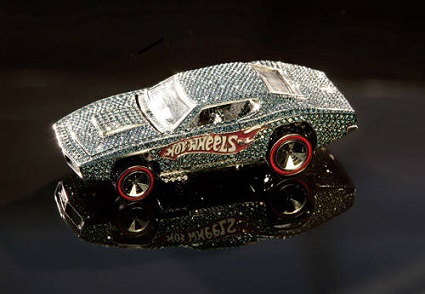 The toy car's body was cast from 18k white gold. Over 2,700 micro diamonds with a total weight of 23 carats were added to the car. Even the engine is highlighted with diamonds as is the logo on the bottom of the car. The anniversary Hot Wheels came with a custom case that has 40 diamonds of its own to signify the years that Hot Wheels have been produced.
While the diamond Hot Wheels was a one of a kind collector's item and will probably never be sold, you may be surprised how many ordinary gold items you own may be worth and which could be a quick source of some extra money.