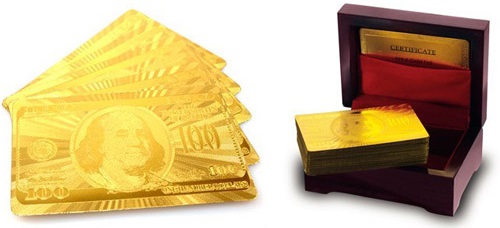 Check out today's golden deal from Groupy: Playing cards made of 24 carat gold-plated for just $29.
Put on your best poker face because it'll be hard not to smile about today's offer. If you or someone you love is a keen card player or poker enthusiast, they're sure to love this extra special pack of cards.
A night at the casino may not even compare after an evening at home playing with gold-plated cards! Invite the guys round for a glitzy game with these 24K gold plated playing cards or gift your beloved with something he won't forget.
The pack is a standard sized deck with 52 cards and 2 jokers. The 24k gold plating has a .999 purity and comes with a certificate of authenticity. To get you feeling like a real high roller, the back of the cards features the image of an American $100 bill.
Feeling like you've hit the jackpot with this deal? Numbers are limited, so grab your pack now by visiting the Groupy website.