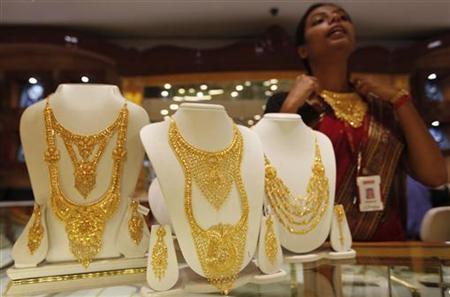 India's leading precious metals refiner, MMTC-PAMP, has stated that not all gold jewelry sold in India are as pure as the sellers promise it to be. Alleging that the scrap gold that comes for refining has 15% to 20% less gold content than the set purity standards, the refiner urged gold buyers in the country to remain cautious while purchasing the yellow metal.
According to the refiner, average gold content in scrap gold has varied from 80% to 85%. Meantime, Bureau of Indian Standards (BIS) – the agency that provides hallmarking on jewelry as proof of purity, too admitted that there have been incidents where gold retailers who claim to have hallmark certification sell products with lesser gold content. Sunil Soni, Director General, BIS, announced that the agency plans to assign unique ID to each hallmarked item, in order to ensure that all gold jewelry sold in the country conforms to purity standards.
In an attempt to crackdown on sale of impure gold jewelry, BIS has proposed imposition of heavy penalties. The customer could claim three times the difference amount from the jeweler if the jewelry sold by the retailer is found to contain less gold content. The customers in Dubai do not face such purity concerns as the fear of hefty fine tends to deter jewelers from selling impure gold.
Effective 2014 onwards, the jewelry trade in metro cities must be mandatorily accompanied with additional certification over and above the existing hallmark certificate. The card-like certificate must have mention to gold content, purity of gold and other metals/stones used. In addition, it should also contain a photograph of the jewellery item.
As per BIS data, there are nearly 13,000 licensed jewelers across the country, dealing in gold jewelry.
Original Source: Hard Assets