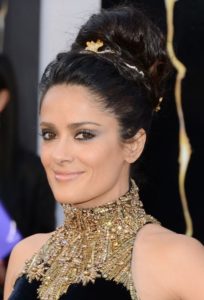 The 2013 Academy Awards announced and presented the winners Sunday night with the usual glitz and glamour of Hollywood. The prize of winning a gold statue – "Oscar" – resulted in a  telecast that had its share of "golden" moments, a couple of which will be highlighted here.
First, to the golden guy himself, Oscar. The Oscar statue is cast from metal, but only the outer plating is made of gold. The statue is primarily cast from an alloy called britannia, which is known for its ultra-smooth finish. The plating on Oscar is 24-karat gold. An Oscar is far from lightweight, tipping the scales at 3.86 kilograms or 8.5 pounds. Each Oscar is engraved with his own serial number.
One of the highlights of the Oscar telecast was when the stars of the 2003 Oscar winning film, "Chicago" made a presentation. The group of four included Richard Gere, Renee Zellweger, Queen Latifah and Catherine Zeta-Jones. Zeta-Jones had earlier performed a number from "Chicago". The presentation by the Chicago four was a golden moment for the Oscars, with both Zellweger and Zeta-Jones attired in stunning gold dresses. Gere and Latifah balanced out the show of gold, with Richard in the traditional black and Ms. Latifah in white.
Another stunning showing of gold was the dress worn by Salma Hayek. The collar of embroidered gold extending down to the bust gave Ms. Hayek a look of Egyptian or Mayan royalty.
The golden Oscar statues are awarded in 26 different categories, but according to the oscars.org website, the number to be awarded for any Academy Awards cannot be predicted. Fortunately, Oscar is recyclable and any extras after the show are stored until next year.