When you ask the typical person, male or female, about the types of things that are made from gold most will tell you that it's jewellery like necklaces and rings. People who invest in or buy gold will more than likely answer gold bars and then of course you have pirates, who have a well-known penchant for gold coins.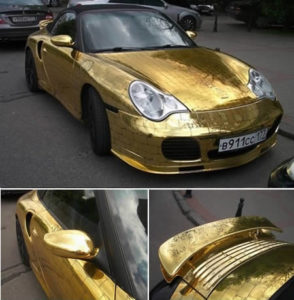 None of these objects would surprise the average person but we're betting that a gold plated Porsche 911 would probably make their jaw drop. If you travel to Russia however you'll find just such a car. Covered from the front to the rear bumper in over 40 pounds of pure gold, practically anything that could be gold-plated is, including things like the shift knob and steering wheel, making a stunning and literally brilliant automotive statement.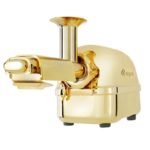 For those people who are into taking care of their bodies and eating healthily, the Angel Gold Plated Juicer from Easy Health is a great way to get the vitamins and minerals you need with a juicer that's covered with one of the most precious minerals on earth. Your morning juice will never be the same again once you've outfitted your kitchen with this ultimate gadget.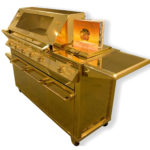 If you're into barbecuing in your backyard (and you have a lot of spare cash lying around) you could always swing for a barbecue covered in gold plating from grill manufacturer Beef Eater. We're not sure if it will make your outdoor meals like lamb or steak taste any better but it will certainly show your neighbours that you have great taste in cookware.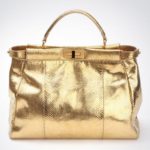 We can't leave out fashion accessories in our list of golden objects and so we present the $36,000 Fendi Peekaboo python skin handbag. Known worldwide for its extremely popular (and extremely expensive) handbags, this one actually clocks in as the most expensive handbag the luxury Italian brand has ever made. The python skin has actually been covered with 24 carat gold leaf and, to be sure, it's quite stunning.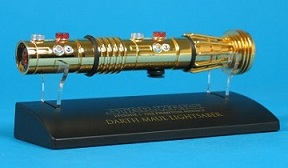 Now lest you think that your neighbourhood geek can't get into the gold plated act, Master Replicas brings us the Limited Addition gold plated Lightsaber based on the one used by character Darth Maul in Star Wars, Episode 1. Where quite sure that Mr. Maul never used a gold plated  lightsaber in the movie but we're also sure that this won't keep the millions of fans of the classic science fiction series from trying to get their hands on one.
And so ladies and gentlemen, as you can clearly see, practically anything can be made with or covered in gold. If you're looking to sell gold, no matter what form it's in, Gold Smart is your best bet in New Zealand. We are discrete and friendly and, from coins to cars, we'll always give you the best deal.