The Emile Chouriet Gold Wings watch uses its wings to take luxury on the wrist to another level.
Swiss timepiece manufacturer Emile Chouriet produces a distinctive, high luxury watch or two each year and the Gold Wings model from 2009 is quite literally dripping with gold and diamonds.
The wings in the Gold Wings name appears to be referenced from the two wings at the top and bottom of the watch extending to connect the black alligator strap. The watch body consists of 18 karat gold and the face is surrounded by 268 diamonds with a total weight of over 1.9 karats. The time keeping hands are also 18K gold. Despite the seeming overload of precious metal and jewels, the watch looks striking and elegant rather than the over-the-top gaudy you might expect.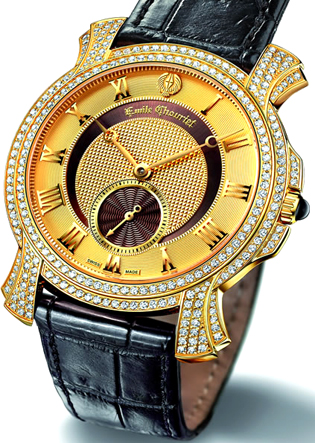 The watch is not all just good looks with an ETA 7001 automatic movement and sapphire crystals on the front and on the back. Flip this watch over and watch the fine machinery if you get an overload of looking at the gold and diamonds. The Gold Wings watch is also water resistant to 30 meters so you can keep it on at the local pool or beach. If you would dare!
The Gold Wings is not currently listed on the Emile Chouriet website, so it appears the watch was an exclusive for 2009. No price can be found anywhere on the web – or at least on the first few hundred Google search results. It seems that the rich and lucky buyers of  Emile Chouriet Gold Wings watches that were produced plan to hang on to them or to find one you need to book a ticket to Switzerland and start prowling the finest watch shops.