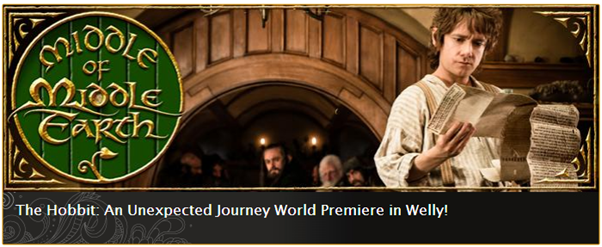 Wellington, also known as The Middle of Middle-Earth is planning a blockbuster celebration today for the world premiere of The Hobbit: An Unexpected Journey.
A production of New Line Cinema and Metro-Goldwyn-Mayer Pictures (MGM), The Hobbit: An Unexpected Journey will be the first release of The Hobbit Trilogy.
Stars and VIPs will walk more than 500 metres of red carpet from Reading Cinemas to The Embassy Theatre, both of which will be screening the film for invited guests today.
Pre red-carpet entertainment will begin at 3:00pm and the filmmakers and stars of the film will begin to arrive at 4:30 pm.
Stars on the Red Carpet
Peter Jackson – filmmaker
Fran Walsh – filmmaker
Philippa Boyens – filmmaker
Martin Freeman – Bilbo Baggins
Richard Armitage – Thorin Oakenshield
Cate Blanchett – Elf Queen Galadriel
Hugo Weaving – Elf Lord Elrond
Andy Serkis – Gollum
Elijah Wood – Frodo Baggins
Barry Humphries – the Goblin King
Sylvester McCoy – Radagast the Brown
The Company of Dwarves:
Jed Brophy
Adam Brown
John Callen
Mark Hadlow
Peter Hambleton
William Kircher
Graham McTavish
James Nesbitt
Dean O'Gorman
Aidan Turner
Ian McKellen, who reprises his legendary role as the Wizard Gandalf the Grey, will be unable to attend but said: "It is thrilling that Peter and my other friends from the cast and crew will be re-united for the world premiere of 'The Hobbit: An Unexpected Journey'. I know they will have a wonderful welcome from the fans and I envy them. As ever, my heart is in Wellington, and I send my love."
Having loved The Lord of the Rings Trilogy, the entire Gold Smart team is very excited about the beginning of this new adventure.
Original Post: eventfinda