It's an unfortunate part of life that burglars and thieves are particularly active around Christmas time. With the record high gold prices it's also no surprise that these criminals have been targeting gold and silver jewellery – your gold and silver jewellery that you've worked hard to purchase, received as a gift or was handed down by a relative.
New Zealand Police reported that there were 60,142 burglary offenses recorded last financial year! That's 138.6 for every 10,000 Kiwis. Shocking statistics really… so the questions to think about are what can I do to protect myself and my family?
Firstly it can be helpful to look into the psychology of the typical burglar so to be better prepared – here's some information provided by the NEIGHBOURHOOD SUPPORT NZ:
Who burgles a house and why?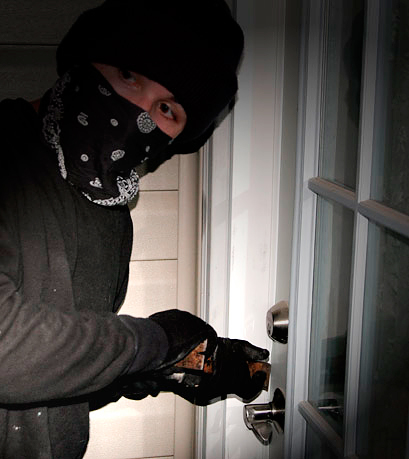 Why would I pick your place?
I like houses where it looks like no one's home – lights aren't on at night, curtains may be drawn during the day, or mail and newspapers have been left to accumulate in the letterbox.
I like houses where a window or door is left open or unsecured
I like houses where people can't see what I'm doing from the street. Trees and shrubs may block the view
I like houses that have alleyways running beside them or back onto parks, reserves or green belts
I like houses where items of value are left outside overnight, like a bike
I like houses where the garage door is open, I can see your car isn't there and there's something valuable inside, like a lawnmower
I like houses I've been to before. I know the layout, what's in them and how to get out.
If I've burgled a house once, it's likely I'll try it again when valuable items have been replaced.
How do I operate?
What I don't like!
If you have gold jewellery you'll need to think about how it's protected… the first thing to consider is insurance – are the items insured for the correct amount, do you have detailed photos, receipts, records for each piece?
The next thing to consider with gold jewellery is how safe will it be in your house? Do you use a safe for storage of precious items, is that safe adequate for the job (fire proof, bolted to the floor, commercial strength, etc) or are your jewellery items simply sitting in a jewellery box or in your top drawer?
If you don't have a safe, then another and even better option would be to store items using a Safety Deposit Box – they have excellent security and will provide peace of mind that your valuable gold and jewellery is safe.
All Gold Dealers and Gold Buyers in New Zealand are subject to strict laws around the purchasing of precious metals:
(1) A licence holder who has possession of, or who is offered for sale or pawn, any goods that he or she knows or suspects are stolen goods must—

(a) report the goods to a constable as soon as practicable; and

(b) if he or she has possession of the goods, hold them for 14 days from the date of the report to the constable.

(2) If a constable gives a licence holder a notice that specified goods are, or are alleged to be, stolen goods, the licence holder must—

(a) immediately notify a constable if any of the specified goods are offered to the licence holder for sale or pawn; and

(b) check whether he or she already has possession of any of the specified goods and, if so, must comply with subsection (1)(a) and (b).

(3) A licence holder commits an offence, and is liable on summary conviction to a fine not exceeding $10,000, if he or she fails, with respect to goods that the licence holder knows, suspects, or ought reasonably to know or suspect are stolen goods, to comply with subsection (1)(a) or (b) or subsection (2)(a) or (b).

(4) A licence holder may dispose of goods that he or she has reported to the Police under this section after holding them for at least 14 days unless, before the expiry of the 14 days, the Police issue a hold notice under section 40 with respect to the goods.
In the terrible event that your items get stolen then you must report this to the Police ASAP. A link to "How to Report a Crime" can be found on their website here.
To protect Kiwis, the team at Gold Smart will readily report anyone suspicious to Police!
Remember to sell your gold to Gold Smart the GOLD BUYERS!