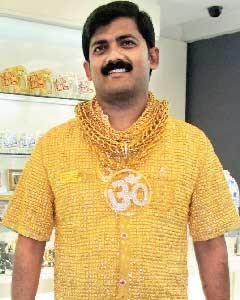 A "gold shirt" weighing about 3.5kg and worth over 275,000 NZD has been bought by a businessman in neighbouring Pimpri-Chinchwad industrial township.
Datta Phuge, the husband of NCP member from Pimpri- Chinchwad Municipal Corporation, Seema, has become the talk of the town after he presented himself in the glittering shirt made out of gold.
According to the local jeweller who crafted the piece, as many as 15 goldsmiths from Bengal worked for 16 hours a day over a period of two weeks to make the shirt ordered by Phuge.