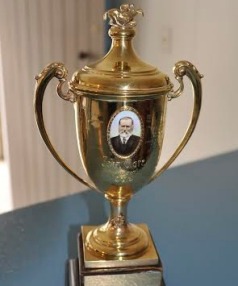 The gold John Clare Memorial Cup contested at the Central Otago Racing Club meeting at Omakau last Saturday has a history dating to 1930.
"The cup has a value of between $50,000 and $75,000 and became too dear for the club to insure," said Alistair Eckhoff, a committee member and former president of the club.
The cup is now kept secure in a museum in Alexandra and produced for the raceday and the presentation to the owners of the winning horse.
Mr Nobody, the most recent winner, is owned by 12-time leading New Zealand trainer Graeme Rogerson, amateur rider Michelle Northcott and the Vino and Punters syndicate and trained by Jack and Jo-Ann Gordon at Ascot Park.
The cup is named after John Clare, a stalwart of the Vincent Jockey Club (formerly Central Otago Racing Club) which held its first meeting in 1884. He was a foundation member of club.
At the 1929 meeting there was a hack race on the programme for £30 ($60) to commemorate his name.
W A Saunders in his book, Historical Racing Records writes:
"In responding to the toast of 'the press' after the meeting (1929), a sporting writer surprised the gathering by climbing onto the table and harangued the stewards for the paltry recognition of the late member. Dave Wilson [a prominent trainer], an old friend of John Clare slipped a tenner into the speaker's hand and the latter, adding a fiver, said that he had £15 ($30) in hand to head a subscription list for the purchase of a trophy worthy of the man.
Andrew Scoular [the president] was quick to seize the opportunity and his appeal was answered by over £200 ($400) being collected in the room and another £50 later in the evening."
The cup was ordered in England and contained over £200 ($400) worth of pure gold in its manufacture. The cup, designated a challenge trophy, was on the programme for the first time in 1930 attached to a race for 100 sovereigns. A miniature gold cup valued at 15 sovereigns was awarded the winning owner of Miss Marco.
The Clare Memorial Cup has been presented 84 times, the Vincent Jockey Club not racing in 1942 and 43 during the second World War.
– The Southland Times