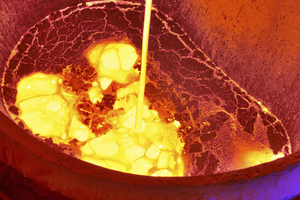 Stolen gold jewellery, watches and other family heirlooms were melted down by a west Auckland secondhand dealer who on-sold the precious metal and illegally earned about $250,000.
Between January 2008 and April 2010, Robin Adrian Burgess, now 55, paid city thieves for gold.
Those who didn't want to go to his secondhand shop, Robs Trading Post in Avondale, were met in carparks or the Massey Domain.
Burgess would remove any precious stones, melt the items and produce gold buttons that were sold to Regal Castings Ltd, an Auckland refinery.
During the period in question, Burgess received $1.6m from the refinery. Of that $250,000 came from stolen property.
In the Auckland District Court today he was jailed for 3 1/2 years after earlier admitting one charge of receiving stolen goods.
Judge Geoff Rea said the offending would have caused "untold grief" for burglary victims.
"Criminals would bring property to him presumably that they obtained or stole dishonestly, either by thefts or burglaries," he said.
"There's no way of knowing really the devastation that people suffered as a result of precious items of jewellery and heirlooms being taken from them."
The judge gave Burgess a discount for his guilty plea and because he suffered from heart problems. Charges laid under the Secondhand Dealers and Prawnbrokers Act were withdrawn.
Burgess' business and home were raided in April 2010 as part of Operation Castle, a police crackdown on dodgy secondhand dealers and pawn brokers.
After the sentencing, Detective Senior Sergeant James Bothamley said: "It's pleasing to finally get a result and to be in a position where we can return the heirlooms to their rightful owners."
Police were starting civil asset recovery action against Burgess and his wife Llannys, and were taking action to revoke Burgess' secondhand dealers licence.
Llannys Burgess pleaded guilty to one charge of breaching the Secondhand Dealers and Pawnbrokers Act for operating without a licence. She will be sentenced in May.
Four years ago the couple told the Herald they would defend charges laid against them.
Stolen items found with Burgess than can now be returned to their owners:
* A woman's Rolex wristwatch in nine carat gold fitted with a nine carat rose gold expanding bracelet
* An 18 carat gold 19th century woman's snap bracelet with 17 early European cut diamonds
* An amethyst and diamond pendant
* An Omega seamaster watch
* A woman's nine carat gold ring with pear shaped garnets.
Original Source: The New Zealand Herald