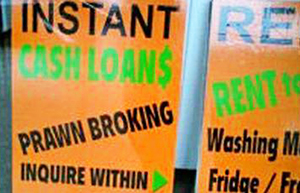 At Gold Smart we're not sure if these guys are selling seafood or something else! Either way it might be worth avoiding!
There has been much written recently about the horrendous interest rates New Zealand "Loan Sharks" charge vulnerable Kiwis – we think this is both unethical and immoral. If you need cash you should try advertising online as you'll know the market will pay what something is worth (not what a Shark tells you).
At Gold Smart we do NOT provide loans of any kind – just the top prices for your unwanted gold jewellery. Check out our Testimonials to see what our happy customers are saying about us, the process and our prices!