Located an hour north of Chicago in the town of Wadsworth, Illinois, a golden pyramid shaped home owned by Jim and Linda Onan is a monument to the couples fascination of all things ancient Egyptian as well as showing what can be done with a very large amount of 24 carat gold foil. The five words the family uses to describe their very unique dwelling are: "Power, Gold, Mystery, Exotic, and Impressive."
The gold-plated pyramid house has six floors with total area of 17,000 square feet – 1,580 square meters. The ground floor is an exhibition area for an extensive collection of Egyptian items and the family lives on the upper five floors. Also on the grounds of the home are a 55 ft. – 16.8 meters – tall statue of King Tut, an exact replica of the boy king's tomb, a garage topped by three small pyramids, and a moat that local urban legends claim to be swimming with either crocodiles or sharks. Local newspapers have also reprinted a legend that the moat gets water from a fountain of youth. Jim Onan also had a laboratory analyze beer remains found in an Egyptian tomb and now he brews his own version of the ancient beer using his fountain of youth water.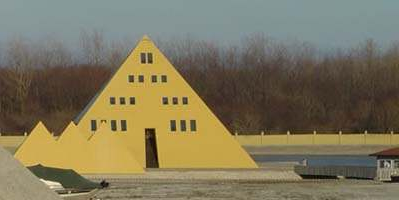 The idea of a pyramid shaped home started with Jim Onan's father's fascination with the 1970's theories concerning the alleged power of pyramids.  The Onan family lives soon revolved around larger and larger pyramids, leading to the home the family now lives in and any Pharaoh would be jealous of. It is also possible the family cars are fueled by pyramid power, thus the shape of the garage.
The golden pyramid house and estate are open to the public at specified times for a guided tour.