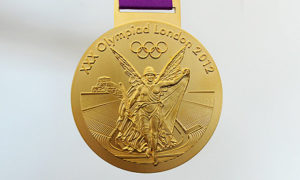 Contrary to what the name might suggest, there's actually not that much gold in a gold medal.  While the medal's design is different for every Olympics, it must adhere to guidelines set by the Olympic Charter.
One of those guidelines states that at least 6 grams of gold must be used in each gold medal.
This year's Olympic gold medal is comprised of 92.5 percent silver, just 1.34 percent gold, and the remainder 6.16 percent is made up of copper.
The gold and silver medals weigh 412 grams, while the bonze weighs 357 grams.  Each medal is 85mm in diameter, and 8-10mm thick.  These are the biggest and heaviest medals ever produced for the Summer Olympic Games.
So what is the gold medal worth at today's prices?
We crunched the numbers and with today's spot prices and a weight of 412 grams the London 2012 gold medal is worth: US$647.65
The Production
Eight tons of gold, silver, and copper has been mined by Olympic Partner sponsor Rio Tinto at Kennecott Utah Copper Mine near Salt Lake City, Utah as well as the Oyu Tolgoi project in Mongolia.
The 4,700 medals, including Olympic and Paralympic medals, were made at the Royal Mint headquarters in Llanstisant, South Wales and are housed in the vaults of the Tower of London. Each medal takes 10 hours to produce involving 22 stages of production.
Medals at London
The Olympic Summer Games in London features 302 medal events across 26 medal sports. The first medal awarded will be in Women's 10m Air Rifle on Saturday, July 28, and the final medal to be awarded is expected to be in Women's Modern Pentathlon on Sunday, August 12.
Original Source: CNBC