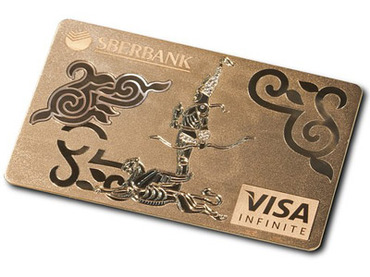 Russia's Sberbank unit in Kazakhstan plans to release a diamond-studded Visa credit card made out of gold to its top 100 customers.
The real gold Visa card is embedded with 26 diamonds weighing 0.17 carats and is being produced in Russia. The card can't replace the usual card as it has no magnetic stripe, but it can be used it for chip transactions that require a PIN number. It will be offered as a companion to the standard plastic Visa Infinite credit card.
Its price tag comes at $100,000 with $65,000 for the card itself, while the remaining $35,000 will be on its balance.
But gold-and-diamond Visa doesn't come alone. The owners will receive life and health insurance to the tune of $265,000, access to business-class lounges at 280 airports, a 24-hour concierge phone service, discounts in 800 hotels, restaurants and car rental worldwide and other services as a part of the Visa luxury program. The customers will also get a complimentary iPhone 5 and Montblanc bankcard holder from Sberbank.
Visa Infinite is one of the Visa's premium cards. There are 400,000 Infinite cardholders across the Asia-Pacific region, including 2,000 in Kazakhstan, according to Visa data. Visa plans to introduce the gold-and-diamond Visa Infinite card to other Asian countries, though these plans are not confirmed. Whether the gold card would be introduced in Russia or Western countries, is still unknown.
Original Source: RT News