A British jewellery maker, Stuart Hughes, has taken the popular Apple iPad tablet computer to a new level of extravagance. To give the utilitarian tablet a more upscale look, this iPad is encased in 24k gold – 2 kilograms or 64.3 troy ounces of gold! To add to the bling, Hughes has upgraded the Apple logo on the back of the tablet using total of 50 diamonds and other  precious gems. The result is an iPad you can't take your eyes off of and may not be able to lift, since it weighs 7 times as much as a regular, buy it at the Apple store iPad.
I am sure by now you are wondering how much this golden piece of tech gear costs. In U.S. dollars the gold plated tablet is priced at $189,000. Definitely need a super-unobtanium, unlimited credit limit credit card to put one of these in your backpack.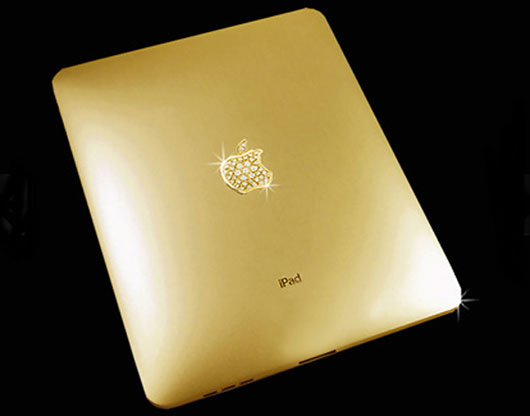 The bigger question is what do you do with your $190,000 gold plated iPad when Apple comes out with a new model, which the company tends to do every year. At $1,600 per ounce, the gold will bring in about $103,000 and if you can cleanly separate the iPad, it would be worth about $400 used. No value is given for the jewels, but. since this is an estimate for fun sake, that if you want to upgrade when a new iPod is released, you should be able to trade you current gold plated wonder and get the latest and greatest for a discounted price of $80,000 or so. Much easier to handle on the credit card bill!