Eating gold seems somewhat crazy on the surface. After all, gold is beautiful and has plenty of functional purposes when used in the proper manner. Creative chefs have taken gold to the next level by adding it to all sorts of dishes and beverages. No, people are not scarfing down gold coins or gold bullion bars. Rather, small amounts of gold are being added to recipes, oftentimes in the form of a sprinkled gold dust topping. Though gold does not exactly taste amazing, it adds that extra something special that makes delicious food even better. In fact, some of those who have tasted gold report it satisfies the palate.
Why Gold is Edible
Gold is a precious, inert metal so it is not degraded by stomach acid. Gold moves along the intestinal system without changing. Gold moves through the body with surprising ease. Aside from gold, silver is the only other precious metal used as a food additive. As long as an excessive amount of gold is not consumed, there is no health risk. Let's take a look at a few examples of how gold is being used in food.
Gold Pizza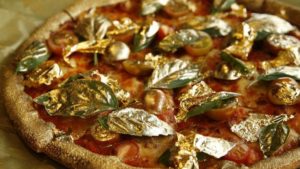 If you have a couple thousand dollars to spare, you should give 24K Pizza a try. Made by Industry Kitchen in New York City, this amazing pie is as decadent as it gets. 24K pizza is wood-fire baked, topped with all sorts of scrumptious ingredients and laden with 24-karat leaves made of gold.
The Golden Cristal Donut
Head on out to Brooklyn, fork over $100 at the Manila Social Club and you will enjoy one of the most expensive (and tastiest) donuts in the world. The golden cristal donut is made from a purple sweet yam known as ube, champagne jelly, mousse, Cristal icing and a glorious gold leaf.
Gold and Diamond Lasagna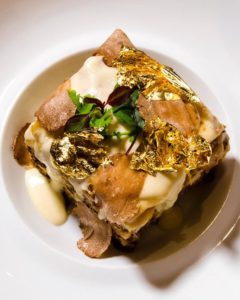 The Las Vegas Strip has plenty of world class offerings yet the gold and diamond lasagna at Michael LaPlaca's Portofino restaurant might top them all. The dish features layer after layer of tasty pasta stuffed with foie gras, prosciutto di Parma, Kobe beef, cheese, Iberico ham, white diamond truffles and a sparkling gold leaf.
High Roller Roll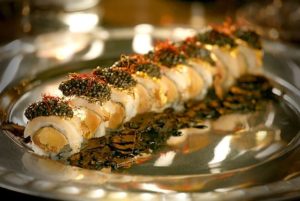 Some chefs are adding gold to sushi rolls. As an example, Shui Roku serves a lovely high roller roll with gold, lobster tail, Kobe beef, blue fin tuna, truffle oil and golden caviar.
Gold Cappuccino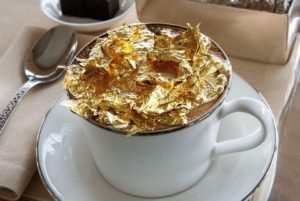 Dubai has quickly become one of the world's premier tourism hot spots. Visit Dubai's Armani Hotel in the tallest tower in the world, order a gold cappuccino and take in the amazing view. This cup of luxury is derived from Arabica coffee beans, coated with gold flakes and dark chocolate.
Golden Sundaes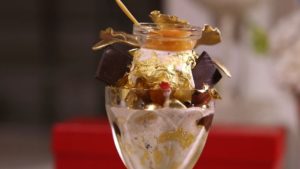 Pavilion, located in the windy city of Chicago, has a dazzling gold sundae on the menu. This nifty creation costs about a thousand US dollars yet it is absolutely unforgettable. The sundae makers add 24-karat gold in dust form to this Hennessy VSOP cognac-coated masterpiece. The sundae also features a fully edible chocolate crown featuring a delicious gold leaf.
Contact Gold Smart Gold Buyers Today
If you are looking for gold or interested in selling gold, Gold Smart is your one-stop shop for everything precious metals-related. Give us a call at 0800 465 376 to learn more about our services. You can also reach Gold Smart online through our convenient contact form. If you prefer to email us, send a message here.