Copyright Infringement by Ezycash
Ezycash Loans and Gold Buyers, Panmure, Auckland – www.ezygoldbuyers.co.nz have been found illegally copying content from our website. "Ezycash Gold Buyers" based at 30B Jellicoe Road, Panmure, Auckland East, have taken text from our website, changed our company name to theirs, and called the information their own.
See the below image for an example taken from their website showing copyright infringement by "Ezycash" of our website text and articles: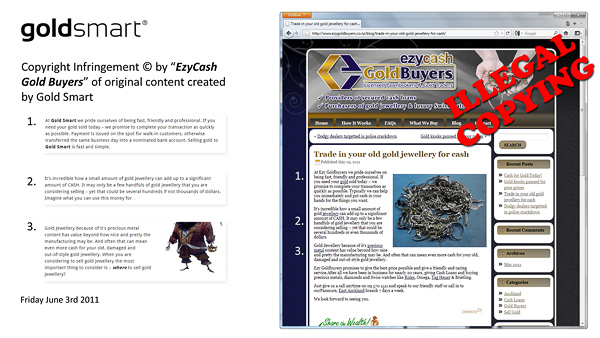 It's disappointing when gold buying competitors decide to copy our original content and it has been mentioned before on our blog, yet this is the most blatant infringement of copyright we've yet seen from another New Zealand gold buying company.
Copyright infringement is a serious issue and one we consider dishonest, illegal and unethical. We have written to "EzyCash" to make them aware of our ownership of this content, and the appropriate responses expected.
This is the same company that offers to lend money at 360% interest per annum (so are we surprised?) – see their "Lending Terms & Conditions" for more details.
It's quite hard to find any clear information about who "Ezycash Gold Buyers" are. Even with a search of the Companies Register and their website, there is a lack of clarity as to the legal ownership of this business – very strange.
See here for an example of the various "EzyCash" entities that have been registered in New Zealand (New Zealand Companies Office). If you have any information about the ownership of www.ezygoldbuyers.co.nz website, we'd be keen to hear from you as we have a case to take further action against these mysterious individuals.
Do Your Research Before Selling Your Gold
As Gold Smart customers will be aware, "Pawn Shops" are known know for being places that most people don't like to go and there's a very negative public perception about the type of business that lends money at predatory rates. You need to listen to your "gut" and if you feel uncomfortable then there's probably a very good reason to avoid places that make you feel that way.
Be smart, ask around, check out our testimonials from customers that have already done the research for you and found Gold Smart to be the best choice.
"EzyCash" decided that it was easier to copy our original content and ideas than to create their own.  Would you want do business with people like that? If someone is comfortable acting in this manner, what else are they capable of?
We have suggested all illegally taken content be removed immediately and will keep you informed as to "Ezycash's" response to our notice to cease and desist from infringing on our copyright.
It's our strong advice that gold sellers do homework on who are the legitimate, honest, and reputable traders that exist in New Zealand.