For any gold and jewellery that you wish to sell, talk to Gold Smart – the smart choice for selling. We will buy your gold jewellery (yellow gold, white gold, rose gold, etc), old gold, unwanted gold, scrap gold, broken gold, gold bullion, gold coins, platinum, silver and more!
Make an appointment
Gold Smart are a proudly kiwi, family owned company based in central Auckland. Our team of dedicated, fully licensed gold buyers harness their expertise to offer you exceptional prices for gold, silver, platinum, and other precious metals.
We strive to help our customers to quickly and easily free up funds for whatever they need. There is no reason to leave broken, unwanted jewellery or old silverware cluttering up your home when you could have cash to put towards a new purchase, buy a new car, or a take much-needed holiday.
As Gold Smart's services are very popular, we ask that you make an appointment for a free appraisal. Evening and weekend appointments can also be requested for your convenience.
Simply visit the Gold Smart Contact Page to call, email, or chat live with us online.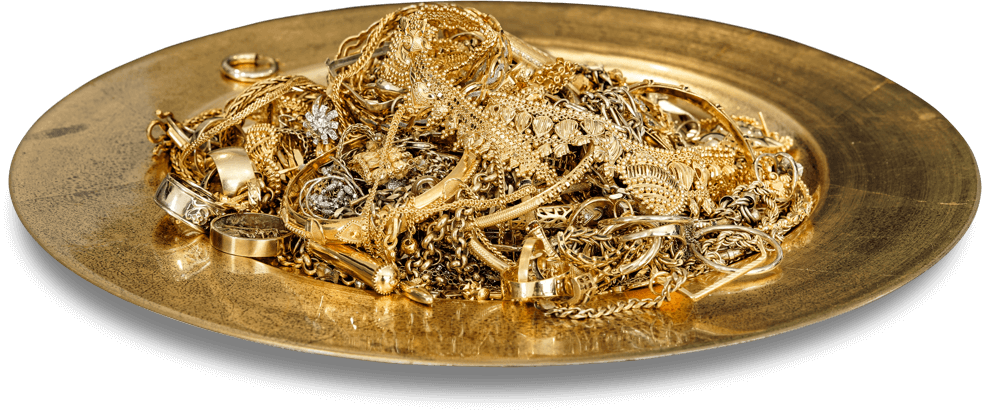 Sell your Gold for Exceptional Prices
Our clients praise us for offering higher prices for their old jewellery, silverware, bullion bars, precious metal coins, and other objects that contain precious metals. We are committed to our reputation as fair and friendly appraisers.
** Price indication ONLY subject to quantity, condition, market prices and exchange rates
Gold Jewellery

Gold Bullion

Gold Coins

Sell Silver

Platinum
Sell Gold Rings & Jewellery in NZ

Do you have unwanted, broken or outdated gold or silver jewellery? At Gold Smart Gold Buyers, we're ready to turn your unwanted items into cash! No matter what condition it's in, we're ready to buy your gold jewellery for a great price – broken, bent, incomplete, out of date – we'll take it all! Curious to see how much your items are worth? Here's a list of some types of gold and silver jewellery we're looking for:

Sell Gold Necklaces
Is that one chain necklace too flashy for your personal style? Do you have too many gold necklaces, or a few broken ones you've been "meaning to fix" for years? Bring it to Gold Smart Gold Buyers! We buy all types and conditions, including popular New Zealand gold necklaces in 9ct (.375) purity gold and 18ct (.750). You get to make room in your jewellery collection and put cash in your pocket for the gold necklaces you actually want – no worries!

Sell Gold Bracelets
Whether you just find yourself never wearing a particular bracelet or you broke the clasp at a party ages ago, your outdated, unwanted and broken gold bracelets could be making you cash right now! Use your newfound money to snag bracelets that are more your style, or for other items you want or need – either way, you're making a smart decision by selling to us! Whether it's the traditional NZ minimum carat of 37.5% gold, or 9ct or higher purity, we happily buy gold bracelets.

Sell Gold Wedding Bands
Renewing your vows – or your spouse? Sometimes even once-sentimental items like gold wedding rings lose their emotional lustre – let Gold Smart Gold Buyers trade you cash for that unwanted wedding band! We'll give you cash for your band or bands, allowing you to start your new life in style – whether it's treating yourself to a vacation or a beautiful new set of modern wedding rings.

Sell Gold Rings
Dents, scratches, too tight, too loose – there are any number of reasons that your rings don't belong in your jewellery box any longer. Here at Gold Smart Gold Buyers, our gold buying prices are the perfect fit for your needs! Trade us your unwanted, damaged or unfashionable gold rings and enjoy the cash instead. We don't mind if it's bent or ugly – gold content is all we need to hand you cash when you sell your gold rings to us.

Sell Gold Bangles
Bangles were must-have accessories once – unfortunately that was over three decades ago, back when no one batted an eye if you wore your leg warmers or shoulder pads out to the dairy. Update your sense of style with the help of Gold Smart – we buy gold bangles and bracelets for cash so you can update your look. Wouldn't beautiful new silver or platinum jewellery look a little more "now" than your old, tired bangles? We certainly think so!

Sell Gold Bullion The Easy Way

Do you have gold bullion you'd like to turn into quick cash at a fair price? Gold Smart is both professional and knowledgeable, making our team your best allies for turning your unwanted precious metal coins, bullion, bars and ingots into money you can use for investments, bills – anything you might need it for! Want to know what types of gold bullion you can sell for cash? Here are only a few of the types we buy – if you don't see yours here, contact us to discuss your item and we'll help you determine its worth.

The Right Choice for your bullion
Want to know what types of gold bullion you can sell for cash? Here are only a few of the types we buy – if you don't see yours here, contact us to discuss your item and we'll help you determine its worth.

Sell South African Krugerrand Gold Bullion Coins
Minted in South Africa, The Krugerrand is 91.67% pure gold at 22 carats – the perfect piece to sell if you're looking to trade gold coins for cash. With a 32.6 mm diameter and nearly 3 mm thick, it has lots of precious metal value waiting to be unlocked by a savvy seller. This popular coin makes up a large part of the gold coin market, and the main denomination is popular among collectors of gold currency due to its gold content – exactly one troy ounce. Other denominations include 1/2 oz, 1/4 oz and 1/10oz, and the Krugerrand has also been released in limited edition proofs that are sought after by collectors.

Sell New Zealand Mint Gold Kiwi Bullion Coins
Marked with a picture of NZ's most famous flightless bird, it's not hard to see where the New Zealand Gold Kiwi coin gets its name. Available in 1/4 oz, 1/2 oz, and 1 oz denominations, each is made with 24 carat gold. Other designs on this New Zealand gold coin include a map of the country and the Southern Cross constellation on the obverse.

Sell New Zealand Mint Pacific Sovereign Gold Bullion Coins
The Fijian gold Pacific Sovereign is a beautiful gold coin that features a swaying palm tree and a cluster of tropical Plumeria flowers beside the bay. Made in various denominations, the sovereign is minted in a 1 oz denomination and carries the distinction of being legal tender in the nation of Fiji.

Sell Perth Mint Gold Kangaroo and Nugget Bullion Coins
Gold bullion collectors have a lot to love about Australian currency. Minted in Perth, The Australian Gold Kangaroo coin and Australian Gold Nugget coin are available in a wide variety of denominations, including 1/20 oz, 1/10 oz, 1/4 oz, 1/2 oz, 1 oz, 2 oz, 10 oz and 1kg – each made in 24 carat gold. Not only do these coins function as legal tender in Australia, they also change their design year to year. They have legal tender status in Australia and are one of few legal tender bullion gold coins to change their design every year. Another type of gold bullion coin, the Australian Lunar Gold Coin, features similar gold purity and displays images of the Chinese zodiac.

Sell Canadian Maple Gold Bullion Coins
Not to be outdone in the gold bullion department, Canada's Gold Maple Leaf Coin is legal tender for $50 face value within the country, and are made by the Royal Canadian Mint. Coins of this type that were minted between the years of 1979 and 81 feature .999 gold content and 24 carat gold. Denominations available include 1/20 oz, 1/10 oz, 1/4 oz, 1/2 oz and 1 oz.

Sell American Gold Eagle Bullion Coins
With an eagle design that echoes the seal of the United States of America, The American Gold Eagle Gold Coin debuted in 1986 and is backed by a government guarantee to contain exactly the gold weight in troy ounces, as stated on the coin. Available in 1/10 oz, 1/4 oz, 1/2 oz and 1 oz denominations, the gold contained in the coin must legally be sourced in America, making it an unusual piece.

Sell American Gold Buffalo Bullion Coins
Much like other coins, this gold bullion coin is affectionately known among collectors under a shortened name – a "buffalo." The American Buffalo, or gold buffalo, is created out of 24 carat gold and is based off a design found on the US Indian Head nickel. It also has the honour of being the first pure gold coin minted for public consumption. Much like the Canadian Maple Leaf gold coin, the American Buffalo gold coin is legal tender for $50 within the country of its manufacture. Available denominations are 1/10 oz , 1/4 oz 1/2 oz and 1 oz.

Sell Austrian Philharmonic Gold Bullion Coins
Commemorating the orchestra for which it's named, the Austrian Philharmonic Gold Bullion Coin features a musical instrument design, as well as important information like alloy purity, weight, face value in Euros and the year it was minted. Made by PAMP Suisse – an independent refiner of precious metals – it is available in 1/10 oz, 1/4 oz, 1/2 oz and 1 oz denominations. It was the most commonly sold gold coin in the world throughout several points in the 1990s.

Sell Chinese Gold Panda
The official mint of the People's Republic of China turns out the beautiful Chinese Gold Panda coins, decorated with a lounging version of their namesake eating bamboo. The reverse images on the coins change each year, a feature requested of the mint by gold buyers in the early 2000s. These coins are issued in denominations that range from the smallest version of 1/20 troy oz to larger versions weighing in at over 1 troy oz. The design of the coin is also available in silver as the Silver Panda series, also issued by the official mint.

Sell Mexican Peso Gold Bullion Coins
An interesting piece of Mexican history, the centenario was originally minted in 1921 in order to commemorate the hundred year anniversary of the country's independence from Spain. While the face value denotes its worth as 50 pesos, this is for legal purposes only, doesn't function as legal tender and does not accurately reflect the worth of the coin's precious metal weight. Images on the coin include the "Angel of Independence", two famous volcanoes found in Mexico, and the coat of Mexican arms can be found on the back. The design on these coins, much like the Chinese Gold Panda coins, is seen in the silver "Libertad" series of precious metal Mexican coins as well.

Sell MyGold Cast Bars
A unique contributor to the precious metal market in New Zealand, MyGold is both an independent and family-owned business specializing in bullion products made in New Zealand. Each bar is handcrafted for beauty and a natural finish, and each batch as been refined and assay-tested to ensure high standards and a superior product. Both gold bullion and silver bullion products from MyGold are available in sizes to everyone – 5oz, 10oz, 20oz, 50g, 100g, 200g, 500g, 1kg or 5kg – and retain their value for selling to companies like Gold Smart for cash.

Sell Gold Cast Bars
At Gold Smart, we buy the vast majority of gold cast bars and gold ingots, regardless of manufacturer, gold purity or weight. These ingots are generally hand-poured and will carry a recognisable maker's mark from a well-known precious metal dealer, such as Tanaka in Japan or Credit Suisse in Switzerland. In terms of purity, bullion can range from 22 carat (91.6% fine gold) to 24 carat (99.99% fine gold). Generally these gold bars will come in standard weights by their country of origin, including grams, troy ounces, bahts and more. No matter where it was made or how much it weighs, you can always get cash for your gold bars with Gold Smart!

Sell Gold Minted Bars
Gold minted bars are, unsurprisingly, usually made at a mint for consistency and control of the finished product. They're typically available in several sizes to suit different budgets and collectors; these can range between 5 grams to 10 ounces and above. Popular minting facilities include PAMP or Credit Suisse in Switzerland, as well as the Perth Mint in Australia. Often, these minted bars will come sealed in air-tight, tamper-proof packaging with serial numbers for easy tracking and checking.

The Simple Choice For Selling Gold Coins In NZ

There are few positions that offer an exciting look into international currency like gold buying does. We have had the pleasure of buying gold sovereigns from across the globe, including South African Krugerrands and currency from Germany, France, Italy, Belgium and Denmark. In general, the price of a gold coin is determined entirely by its precious metal content, purity and weight rather than rarity or age. Have you been pondering questions such as "What kinds of gold coins can I sell for cash?" Let Gold Smart answer that question for you with this helpful guide on gold coins. Our New Zealand gold buying prices are competitive and fair – if you have any of the gold coins below to sell, contact us today to get a price!

The price of gold in New Zealand compares favourably with overseas dealers and you'll need to be careful not to get caught with GST and Duty charges if trying to export or import coins or bullion from other countries. Coin buyers will be aware of this and it's a factor when selling gold coins. Below are examples of historic gold coins that we buy.

British Sovereign Gold Coin Value
Like many gold coins, the nominal value printed on the front of a British Gold Sovereign coin – one British Pound Sterling – does not reflect the value of the precious metal found in the coin itself. Its gold fineness is set at 22 carats, while the content is officially 7.3 grams, or 113 grains, the official weight per the government from 1817 onward. Different varieties of the British Gold Sovereigns can also be found, including lesser denominations like half sovereigns and special proof editions. Here are a few of the other gold coins you may have in your collection:

20 Frank – Leopold II, Belgium
.900 fine gold

Sovereign Gold – Victoria, Edward VII and George V, Great Britain
.916 fine gold

20 Kroner – Christian IX, Denmark
.916 fine gold

20 Francs – Napoleon III, Angel, Rooster, France
.900 fine gold

20 Mark – Wilhelm II, Germany
.900 fine gold

20 Korona – Franz Joseph, Hungary
.900 fine gold

20 Lire – Umberto I, Italy
.900 fine gold

10 Gulden – Willem III, Wilhelmina, Netherlands
.900 fine gold

10 Roubles – Nicholas II, Russia
.900 fine gold

20 Kronor – Oscar II, Sweden
.900 fine gold

20 Francs, Switzerland
.900 fine gold

How to Buy and Sell Gold Coins for Profit
Even when traditional currency struggles to maintain solvency, gold has tended to increase in value – especially in the presence of a weak local currency. If you'd like to enjoy profit on your gold coins, it's fast, safe and easy to turn gold coins into cash when you work with New Zealand's most respected buyers! If you're ready to determine what your gold coin collection is worth, contact us online. Important information that you should include in your quote request: coin type details, the weight of each in troy ounces or grams and any other distinguishing information about gold content that will help us return a fair market price for your collection.

Silver Buyers & Sellers in New Zealand

With the price of silver at record levels, it's now a great time to sell silver jewellery, sterling silverware, silver cutlery, silver coins and silver bullion. The value of your silver items depends on the carat (or fineness) which for silver is typically between 80-96% and the weight of the piece. Regardless of its condition, age or form, talk with the silver buying experts at Gold Smart to turn that unwanted dining set into piles of cash!

Below are examples of the types of silver that we typically buy from customers all around New Zealand. Damaged silver bullion or old currency coins could be considered at 'melt-value' depending on the condition of the items and based on their base metal value.

Sell Your Unwanted Silverware and Cutlery
Did you know that the silver (including sterling silver) cutlery sitting in your kitchen draw is a veritable "silver mine"? More and more people are finding Nana's old spoons, forks, knives, serving spoons, dishware, candlesticks, tea-service set, tableware and silver flatware are worth their weight in silver.

Sterling silver is an alloy of silver containing 92.5% of silver and 7.5% of an "alloy metal", usually copper. The sterling silver standard has been around for a very long time. Sterling silver will be appropriately hallmarked with stamps to indicate its authenticity. If you have silver cutlery you'll know how time consuming it can be to store, use and clean all silverware associated with special functions. Sell silverto Gold Smart for cash today.

Sell New Zealand Silver Fern
The New Zealand Silver Fern coin is a silver bullion coin minted by the New Zealand Mint. The coins have been minted in denominations of 1 oz of .9999 (99.99%) silver. The obverse features the Silver Fern native to New Zealand. NZ Silver Fern bullion is unique because of its high-quality silver (.9999 pure).

For your interest: The reverse shows a map of New Zealand and the four stars of the Southern Cross and its position in the night sky. The world "Aotearoa" is the traditional Maori name for New Zealand that means "land of the long white cloud". These coins have an unlimited mintage.

Sell The Australian Silver Kookaburra, Silver Koala and Lunar Year Bullion Coins
The Australian Silver Kookaburra, Silver Koala, and Silver Lunar Year coins come in various sizes and are minted by the Perth Mint. The coins feature various designs famous to Australia – such as the Kookaburra and Koala. Sold in various sizes of 1/20oz to 1 kilogram (most typically 1 troy ounce).

For your interest: Silver bullion products made by the Perth Mint in Australia, may have actually been made from silver mined right here in New Zealand at the Martha Mine located in Waihi – New Zealand's famous gold mining town.

Sell Silver Philharmonic Bullion Coin
The Vienna Philharmonic silver coin is struck in Ag 999 (silver) and sold as investment bullion. 'Silver Philharmonics' have been minted since February 2008 and the design of the silver coin is identical to that of the gold coin, except for its face value of 1.50 euro. These coins are sometimes found individually, or more ideally in sealed tubes of 25 x 1oz or 'monster boxes' of 500 ounces.

For your interest: One of the most interesting visual aspects of the coin comes by way of the design of the reverse of the coin. Images of musical instruments not only are meant to signify those used in the Vienna Philharmonic Orchestra, along with the text Wiener Philharmoniker(which literally translates to "Vienna Philharmonic"), are built into the design itself. Even Vienna's Musikverein, which dutifully serves as the concert hall of the Vienna Philharmonic, is tastefully represented. A huge amount of additional information is also inscribed on the reverse of the coin including the weight, the year of issues, the purity and the face value in euros.

Sell Silver Canadian Maples, American Silver Eagles, Silver Buffalo and many others
Some of the most common and popular silver coins are the 1oz Silver Maples minted by the Royal Canadian Mint, 1oz American Silver Eagles and the 1oz Silver Buffalo coins minted by the United States Mint. Coins typically come in tubes of 20-25 rounds or in "monster boxes" of 500 rounds. The value of your silver bullion may be affected by the quality and condition and ideally will not have been touched and stored in air-tight containers.

For your interest: In 2009 over 9.7 million ounces of silver maples were released by the Royal Canadian Mint, 30.4 million ounces of silver eagles were released by the United States Mint, 1.6 million ounces of Mexican Libertad bullion coins, the Perth Mint produced 989,024 ounces of silver Kookaburra/Koala/Lunar coins, and 3 million Chinese Silver Panda coins are scheduled to be minted this year.

Sell PAMP Suisse 1kg Silver Bullion
'PAMP Suisse' silver bullion is known the World over and we will buy silver (and gold) that's been minted by this famous company. PAMP silver is normally seen in 1kg bars that show the makers marks, including a serial number and paper assay certificate. PAMP of Switzerland is LBMA accredited and sold in stackable cartons of 15 x 1kg bullion bars at 99.9% purity.

Sell MyGold Silver Bullion
Independent and family owned merchant of precious metals, MyGold built their reputation selling high-quality gold and silver bullion products all across New Zealand. These bars will be stamped with 99.9% silver, the brand name, weight and metal type. MyGold Silver Bars can be found in various sizes: 3oz, 5oz, 10oz, 20oz, 50g, 100g, 200g, 500g, 1kg or 5kg.

Sell Morris and Watson 1kg Silver Bullion
Highly regarded for their quality refining, 'Morris and Watson' precious metal products can be found throughout New Zealand. Investors wishing to sell silver can contact us with further details and it's not uncommon to see packs of 5 x 1kg packets sealed in air-tight plastic. Morris and Watson bars have the following hallmarks: MW, SILVER, 999 and the weight (1kg).

Sell New Zealand Pure 1kg Silver Bullion
'New Zealand Pure' silver bullion is often seen in 1kg ingot bars with the hallmarks as seen in the image. These bars are 1 kilogram silver cast ingot of 32.15 troy ounces and a fineness of 999 (99.9%). NZ Pure silver has the following hallmarks: SILVER, 999, Selling silver has never been easier or as profitable with record high silver prices.

Sell CIMET 1.002kg and 2.006kg Silver Ingots
In the 1980's 'Auckland Bullion Traders and Refiners' was the first company in New Zealand to produce silver bars under the brand CIMET and are still in circulation today. CIMET silver bullion bars seem to come from everywhere including garages, desks, vaults, storage boxes, attics and the 1980's! These bars are commonly seen in sizes of 1.002kg and 2.006kg of varying quality and finish. The silver may be tarnished due to handling and normal oxidation – this does not affect the price or value of the silver bullion. Hallmarks on CIMET silver may include: ASS, 999, CS and CD.

Sell Silver Castings
In the jewellery fabricating process you may have scrap silver remaining from casting moulds, lemmels, sweeps, polishings, designing, manufacturing and creating fine jewellery. This make include ring blanks, silver earrings, silver tube, granules, plate, strip, sprues and so on. Any unidentified scrap items are normally purchased after testing.

Sell Silver Wire
If you're a jeweller or silversmith, you can sell sterling silver and metal alloy wire such as 1/2 and 1 ounce coils that you may no longer require for manufacturing jewellery items. This could be off-cuts of soft or hard wire at .925 or .9999 fine purity. We will refine all metal and pay you top rates for pure silver after we have assayed the items.

Sell Silver Chain/Bracelets
If you're a manufacturing jeweller you may be making silver products for sale from sterling, this could include chain, belcher, brill, cable, Figaro, curb, Singapore and other styles. This could include old silver stock, out-of-style items that are not selling and damaged items. We don't purchase any filled or plated items.

Sell Silver Findings
For the best rates on sterling silver jewellery findings – such as clasps, bails, beads, rings, fittings, butterfly's, links, clips, earrings, ear-hooks, tubes, pins, links, blanks, studs, t-bars and more, talk with us today about the fast and easy way to release valuable capital from old stock.

Sell Scrap Silver
As long as your items contain genuine silver then we will purchase these items for the scrap silver value. The term "scrap silver" is generally used to describe items containing silver that are of "melt-quality". This might include any of the things listed above plus old silver coins, cutlery and generally old and unwanted silver items. We pay the best scrap silver prices in New Zealand.

Sell silver to Gold Smart for cash today.
At Gold Smart we will buy almost any gold or silver bullion products. How do we determine the value and price of your goods? Please contact our gold and silver buyers at our Auckland office with the details of what you are looking to sell and one of our Silver Buying Representatives will provide further information on how to sell silver.

Reputable, Knowledgeable Platinum Buyers in NZ

Do you have platinum or palladium jewellery that you no longer want or need? At Gold Smart, we offer a user-friendly platinum selling service and excellent, competitive rates that ensure you're getting the best value each time you sell platinum jewellery. We buy all types of platinum and palladium items, including platinum jewellery like necklaces and rings, as well as investment pieces like bullion that contain these precious metals.

Sell Platinum Rings, Wedding Rings, Necklaces, Chains and Bracelets
Does a piece of platinum jewellery no longer hold the same emotional connection? Sell it to us to get the best price! Would you like to update your platinum wedding ring into something a little more contemporary? When you sell your platinum items to Gold Smart, you'll get the cash you need to do just that. We are currently purchasing items with the following hallmarks:

– Items stamped with 900 Pt / 900 Plat (90% Pure Platinum)
– Items stamped with 950 Pt / 950 Plat (95% Pure Platinum)

Sell Platinum Bullion Coins
If you have platinum bullion coins in your collection, let us buy them from you and give you the best price for your investment! We buy platinum versions of popular bullion coins from around the world, including platinum Canadian Maple coins, platinum American Eagle coins and platinum Perth Mint Platypus coins.

Sell Platinum Bars
While gold bullion and bars often get the spotlight, savvy investors will often purchase cast or minted platinum bullion bars to sell to companies like ours. Our experienced team will be pleased to purchase your palladium or platinum bars, which are typically produced by popular, trustworthy minting companies like PAMP Suisse and Credit Suisse.

Sell Palladium Bullion Coins and Palladium Bars
The palladium bullion coins and bars in your precious metal collection are worth a lot of cash, and Gold Smart is ready to trade! Whether you'd like to change your investments or simply collect cash from palladium coins and palladium bars you've inherited, our expert precious metal buyers will help you get the best price for your palladium items through Gold Smart.

Sell Scrap Platinum and Palladium
If you make fine jewellery with platinum, you may have scrap such as platinum wires and findings made out of this precious metal. You may also have broken platinum jewellery or damaged palladium pieces in your collection, but don't worry – they're still worth a lot of cash through our platinum buying company! If you'd like to know how much your scrap platinum items are worth, contact us today to find out how to get your quote.
The Gold Smart Difference
Given this may be your first time selling gold, we understand your concerns. As gold buyers in business for over 10 years we have refined an easy, safe and discreet process for you to sell gold. Gold Smart® has helped thousands of customers to unlock cash from their unwanted jewellery items. Wherever you may be in New Zealand, please get in touch with our friendly team today to find out how to get the best prices for your gold and silver items.
Read more
10 Years in Business
Most 5-Star Reviews
Secure Central Location
Exceptional Prices
Advanced XRF Testing