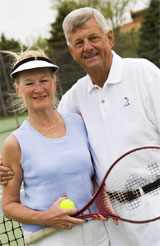 We all want to live a long life, one where we are fit, strong and healthy. This can indeed be a reality if we are up to the planning and work required. Staying active is so important for longevity. This doesn't necessarily mean working out for hours a day at gym. It's getting off the couch and going for a brisk walk, bike ride or taking a swim in the ocean, lake or nearby pool. It's taking the stairs rather than the lift and moving your body at every opportunity. It's the movement along with good eating habits that will keep your body working as it should and not collecting unwanted weight.
Whilst you may not be running marathons into your seventies and eighties, you can make the most of your life by working on your relationships, always having something to look forward to, being grateful for what you have, and doing good deeds for others.
You know the day will come when it is your turn to retire. This time in life is supposed to be the best time and for good reason. You have worked hard in your career, raised your children and seen them through their academic years and now it is your time. Retirement is a great time for you to get know yourself and your partner again. This can be an eventful time in your life where you might embark on that travelling you have been talking about for years or just spend some quiet time with a hobby.
For those needing some extra money, selling some of your gold jewellery is a very profitable and fast way to get those funds you need to fuel your new projects and pursuits. You can get in touch with Gold Smart and count on a professional and friendly team of gold buyers. Have confidence that you are dealing with knowledgeable, licensed and professional gold buyers, so you will not be charged any hidden fees and you are never obligated to sell.
Remember that the most important part of your retirement is your health. Without it you'd be unable to do what you want or go where you want. So why not begin today to take care of yourself and that means eating better and getting plenty of exercise? You will be surprised how much better you will feel about your life and those around you. 🙂