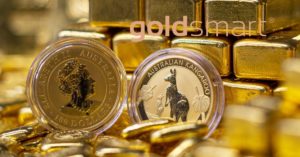 Gold Prices
The price of gold and silver has risen in recent days. This means that if you bought gold bars in the past, you may be able to sell them at a higher value – making a good profit. Of course, the price of precious metals could rise further, however, we can not guarantee what will happen with prices tomorrow, next month, or even next year. Instead of trying to guess the right time to sell your bullion, why not take advantage of high prices right now?
In determining the value to sell gold bullion, it's helpful to know the weight, purity, and where it was refined. Regardless of its condition or place of origin, and as long as it's genuine gold or silver we will purchase it from you. Offering excellent rates and fast payment service.
We want all our customers to have a pleasant experience when dealing with us. We will purchase any kind of gold and silver as well as selling platinum and palladium bullion.
Best Time to Sell Gold
At a time when gold and silver continue to increase their importance, selling your precious metals can become an extremely smart choice. If you are looking for a buyer, you have just found us!
Our team of experts is ready to support you during the selling process, answering your questions, and working with clarity so you feel comfortable and informed throughout the process. We invite you to contact us directly to learn more about our services and then encourage you to decide for yourself.
 Take advantage of the high price of gold and silver and sell bullion to Gold Smart today.