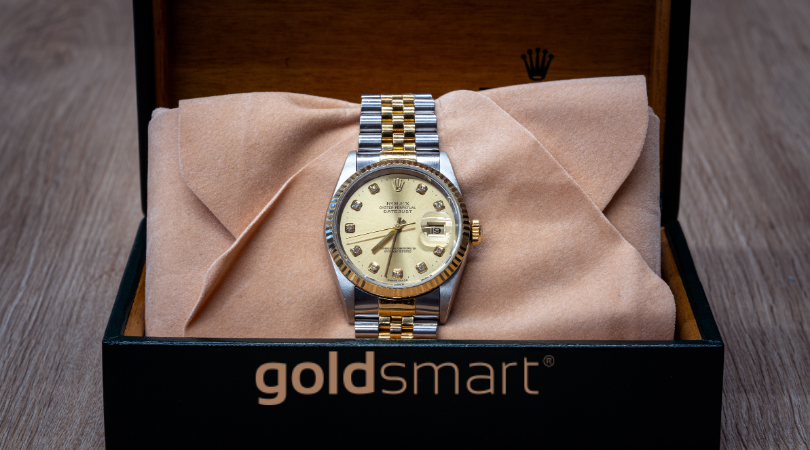 Timeless Beauty of Gold Watches
Men and women alike have always had a love affair with fine timepieces. When it comes to watches, there's something about gold watches in general that really appeals to most people. The gold itself is very attractive, of course, and the weight of the fine gold watch on your wrist lets you know that not only can you tell time accurately but also that you have something that's been crafted beautifully and can be handed down from one generation to the next.
Watch Out for Counterfeit Gold Watches
There is one problem with gold watches, however, especially some of the top-line gold watches like Rolex, in that there is a very large market for counterfeit gold watches. Not only does this make it difficult for buyers who are seeking to find a fine gold watch at a bargain price but can also be a problem for those who wish to sell their gold watch and use the money to pay down debt, start a small business or otherwise need quick cash.
Indeed, it can be a very nasty surprise to find out that the "valuable" gold watch they have is actually a forgery made from lesser metals or is gold-plated. The fact is however that the technology exists today to make counterfeit gold watches so well that it takes special equipment in order to confirm and/or refute their authenticity.
Check if Your Watch is Authentic Gold
What that means for you, the consumer who's looking to sell your gold watch is that you need to first determine if your watch is (hopefully) an authentic gold watch.
One of the best authorities in the world on gold watches is the Swiss Customs Service. They advise that even if you pay a very high price for your gold watch it doesn't guarantee that it's authentic, and neither does any indication of "fineness" that you might find on your watch. They also cautioned that "hallmarks" can be easily forged these days and that many consumers have purchased a gold watch because of the hallmark, only to find that it's a cheaper, gold plated copy. (They also go on to say that there are legitimately produced gold plated watches, but if you believe that yours is solid gold you are still being deceived.)
You can actually be the owner of an authentic solid gold watch even if it doesn't have a hallmark. For example, in the United States, a jeweller must actually have what's called a "makers mark" in order to also put a hallmark on any pieces that they design.
Even for the most experienced of jewellers it's practically impossible to simply look at a gold watch and help deduce whether it's solid gold or not. That's why most jewellers have simple tools that they can use in order to make sure, including something called nitric acid which doesn't react to gold but does react to other, cheaper base metals. Similar testing needs to also be performed in order to determine what "karat" that the gold your gold watch is made from happens to be. (The hallmark usually shows this as 10k, 14k, 18k, etc.)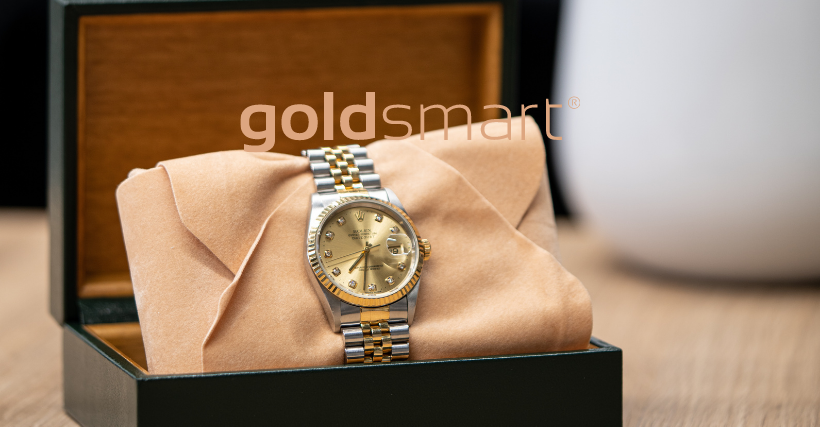 We Buy Solid Gold Watches for Excellent Prices
Here at Gold Smart, we purchase only solid gold watches and we pay excellent prices for them. When you sell your watch to Gold Smart you can rest assured that we'll tell you exactly what it is worth and give you an extremely fair and competitive price for your timepiece.  In fact, we urge all of our customers to first go online and Google our name. What you'll find is a high volume of excellent reviews from our customers showing that we indeed do take good care of them.
So if you need to cash fast and you'd like to sell your gold watch, no matter what brand it happens to me, give us a call, and let's talk. We'll give you straightforward, honest advice and, if you like what you hear, we'll give you an excellent price for your gold watch.