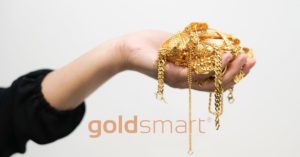 When was the last time you looked through your jewellery box? If you are like most people, the answer is months, years or even decades. Just about everyone has excess jewellery, whether it is a ring, necklace, bracelet, earring or other items. If you have any gold jewellery you no longer use, it is time to get some value for it. Gold Smart will pay cash for your gold jewellery.
Jewellery Eventually Goes out of Style
Your gold jewellery pieces might have looked stylish when you first got them. However, as time progresses, gold jewellery eventually goes out of style. What was chic back in the early 2000s, 90s or 80s probably won't look en vogue in 2018. If you perform a thorough review of your jewellery collection, you will undoubtedly find gold pieces you no longer wear or desire. It is time to take those old, unused or damaged pieces of gold jewellery to Gold Smart for an appraisal. You just might be surprised by how much money we are willing to offer for your gold piece(s).
Sell Your Gold Jewellery and Have a Blast with the Proceeds
Take a moment to think about how much happiness your gold jewellery has brought to your life. Perhaps it has brought little or even none. Most people buy or receive gold jewellery, wear it a couple times and let it sit in the jewellery box for quite a while. Maybe you dust off your gold jewellery once or twice per year. In most cases, gold jewellery is worn less frequently than the owner originally intended. There is no reason to let your jewellery sit idle in a cabinet, drawer or box. Call Gold Smart to schedule an evaluation of your gold jewellery so we can assess its value. Be sure to call us at least an hour or two ahead of your arrival so we can slot you in for an assessment with our gold jewellery experts.
Once we have the chance to analyse your gold jewellery, we will provide a fair offer. This is your chance to unload your old gold jewellery, make a bundle of money in little time and enjoy life to the fullest. Perhaps you will take the proceeds from your gold jewellery sale and invest them in the stock market or a cryptocurrency like bitcoin. Maybe you are due for a holiday break. Some will simply put the money from their gold jewellery sale in the bank so they can use it on a rainy day. Maybe you would like to upgrade your wardrobe or buy chic new gold jewellery that you are proud to wear in public. Regardless of what you do with the proceeds, you will have a bundle of cash in your hand as opposed to an outdated piece of gold jewellery you haven't worn in a while.
Contact Gold Smart Today to get Cash for Your Gold Jewellery
We are ready to buy your gold jewellery, regardless of its age or condition. If your jewellery has real gold, we want it! Give us a call at 0800 465 376 to schedule an evaluation of your gold item(s). You can also reach out to us through our website's convenient Live Chat option. If you would like to contact us by email, shoot our team a message at anita@goldsmart.co.nz. We will be in touch as soon as possible.